ONLINE TOOLS
Forms & Docs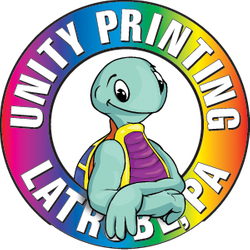 In this section you can download forms and documents that you may find useful.
Download information on how we keep your personal information private.

Please fill free to download our credit application if you would like to have your own account with us. After completing the form you can either fax it to (724) 539-1881 or mail your form to: Attn: Accounting Department, Unity Printing Company Inc., 5848 State Route 981, Latrobe PA 15650.

If you're interested in employment with our company, download our employment application, fill it out and send it to:

Unity Printing Company Inc.
Attn: Human Resources Dept.
5848 State Route 981
Latrobe PA 15650

At Unity Printing, we not only print a wide range of products, but we can store them too! If you frequently re-order particular items and don't want the hassle of storing them on-site, we can print and warehouse your items for you and deliver them at your request. We'll create your very own Customer Portal where you can access the files you wish to order 24/7, and we'll print and deliver them accordingly. See the PDF linked above for instructions on taking our quick and easy tutorial on accessing your Customer Portal.

File can be downloaded and printed for your records.

The VersaDoc System is especially designed for companies that purchase several business cards, letterhead or envelopes with the same basic layout but with variable name and address information. From the Document Library you'll be able to enter the variable data, proof the document instantly and place your order with us—all in a matter of minutes.